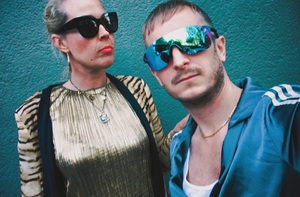 A piece of Alexander Gibbons Barth
Interview with director and co-founder Alexander Gibbons Barth at Fanny & Alexander Productions.
What kind of movies and series does netflix suggest to you?
Everything, high and low, most of the time it feels like pure guessing. Maybe because I'm  sharing profile with my wife and mother haha.
Does the proposals match your movie taste?
I appreciate that that it is not precise, as I sometimes end up watching the unexpected.
How come you started working with film?
It's a combination of several things. On one hand, I am a multi-worker with many interests who constantly thirst for new experiences. In addition, I am a devourer of stories in all formats and can easily sink into a biography, fact books or an epic space adventure. For me, movies are just that, endless like space. Here I can discover freely throughout my whole life without worrying about getting bored. As far as I know, there is no other profession that offers that premise.
Tell us about the first movie you made?
Haha, well it was during the summer holidays and we really just played around. It was a kidnapper story that we edited in the camera, and we all played as many roles in front of it as behind. It was very random but we had a lot of fun. I remember, among other things, that our "getaway car" was one of those utility mopeds that you had to cycle to start up.. I would stand there and pedal for five minutes before it started haha.
Tell us about a shoot when everything went to hell, or when you thought it would.
I have experienced many frustrating and incredibly difficult situations on set, it can be anything from the absence of an important actor, to a storm coming in when we are about to shoot a closing scene in a beautiful sunset. However, my belief is that everything is always fixable in some way, from changing the storyline, re-planning the shoot or "fix it in post" (yes we do that too:). It can be frustrating, but after a while one notice that it is better to put all energy into finding the new solution.
What movie that someone else has made would you wish you had done instead?
A very good and interesting question that triggers several insights. Would I like to make a favorite movie - or would I rather the memory of that movie to last. Or do I want to retell a story just because I think it would improve with another cast or with a clearer storyline. Or a remake of a real piece of shit that still had a very good premise. The answer is probably that I would like to do all these.
However in this very moment I cannot help but thinking about "The Good, the bad and the ugly." It is one of my all time favorite movies and there are certainly a hundred traps to fall in. Besides, I think it is absolutely fantastic and infallible in its current form - so for me it's mostly about wanting to dive into that world; it's the Wild West, it's the American Civil War, it's an adventure, and it's fraud and ugliness. All these parameters tickle my palate. At this stage I wouldn't want to go into how I would process this story, rather that there are lots of interesting subjects that I would love to explore.
Which book would you like to make a movie or series of, and why?
Hmm lots and lots, here are some: Shantaram, The Alchemist, The Conqueror - Conn Iggulden's books on Genghis Kahn.
What other filmmaker would you like to meet and what would you like to ask / talk to them about?
Oh there are so many. Luc Besson to ask about all the genius in films like The Big Blue, Leon or The Fifth Element, but also to ask why he makes so much superficial crap nowadays.
How is a good commercial?
Clear, simple and entertaining.
In what way does advertising differ from drama?
Advertising is a collaboration between several creators; from the clients brand vision, that is conceptualized by the commercial agency, and finally the director's ability to embrace and visualize their message. Here everything evolves from the brand and the director is a tool.
Drama is based on a creator's vision, the director's. This work thus becomes more free in both interpretation and execution. Here, too, there are financiers, but the premise is that they give their support to realize the creator's vision (and not affect it too much).
What does the perfect collaboration with an advertising agency look like in your world?
A distinct process and transparent communication.
How does the process differ when you get a finished storyboard from the agency compared to you are in script work and script development?
The story feels more locked when it reaches storyboards.
Which medium do you like most about making commercials (eg TV, YouTube, Instagram, Facebook, Tiktok) and why?
No real opinion about that, my interest in the creation is central. However it's always a bit extra fun when you get to see your work on the big screen.
What is your favorite part of a movie production (pre-production, screenplay, casting, recording, cutting, grading etc)?
All except the shoot. The shoot is a prison and at the same time a jungle, exciting and interesting, but at the same time you are trapped by the circumstances.
Do you prefer working with small or large film teams?
Depends entirely on the mission.
Why is creative storytelling used in marketing to sell more gadgets?
To reach and establish a relationship with the audience = current / prospective customers.
Which genre works best for commercials in your opinion? Humor, comedy, drama, horror, sci-fi, fantasy or thriller?
All because they all engage and touch the viewer. Whatever appeals the best to the client's audience.