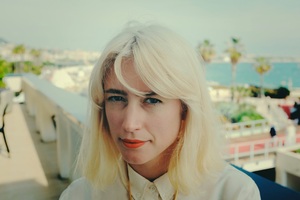 New Director Julia Thelin
Fanny & Alexander Productions are happy to welcome Julia Thelin to our team.
Julia is one of the few who can put a Palme d'Or nomination on her resume. With her films she wants to raise thoughts about power and structures through the absurd and humorous. The visually driven narrative characterizes her style and the poetic image narrative is always an important part of that.
With a background in dance, Julia is interested in the physical and use of the body as a narrative medium. The sport acts as an arena in a number of films to challenge and shape ideas about family and sexuality. Such as in her short film Push It, which premiered at the Gothenburg Film Festival 2017, and was later selected to compete for the short films Palme d'Or at the Cannes festival.
The sport as a theme returns in the short film Brottas, which competed in the Berlinale Generation and Startsladden 2018, and was awarded Region Skåne's short film prize at the BUFF film festival, as well as Best short film at Uppsala International short film festival.
At the film festival in Gothenburg 2019, her film Sorry not Sorry won the short film competition Startsladen's audience selection award. The film, which is about an odd summer night on a boat in Lake Mälaren, was also nominated in Clermont-Ferrand and was awarded first prize on the Nordic panorama.
The new film, Lilla Olle, premiered at the inauguration of Stockholm's international film festival in November 2019.